Enys Power, partner of this 3rd edition
It was a pleasure to have been approached to participate in the "Jénès Nou Pa Ka Fè LaFèt" (translation: "Our youth is not kidding") in Martinique.
The aim is to promote and reward young people with original, feasible projects that impact society and the region on such issues as the solidarity economy, entrepreneurship, digital technology, eco-tourism, etc.
This edition began with the opening of entries in December 2021 and will end with the awards ceremony in June 2022.
After the candidates submitted their applications, the 11 selected projects were put to the vote on Facebook and Instagram (photo: the podium).
Below are the 11 projects
Mahault Caraïbes: Promoting farmers and their products through the culinary arts
Pomodoro Pizza Martinique: Neapolitan pizzas at home for any event
Projet Carrière: Promoting skills acquired in all forms of learning: formal, non-formal and informal; using digital tools; highlighting more than just professional skills, a passion, an associational activity, a social commitment, in order to launch one's career
Tapresta: Online platform that will help you find professionals who can meet your home-based needs in the following fields: hairdressing, well-being, pet-sitting, home care, tutoring
Ki Koté: Application to access all activities taking place in Martinique
Madin' Talent: Showcasing local talent through music, sport and events
Du Rêve à la Réalité: Socio-educational project that promotes non-violence on several levels with various organisations via communication media with no limits on originality, sustainability and outreach across the country
Jobbiz: Temporary employment agency that uses digital technology to facilitate contact between candidates and employers
H2 Sargassum: Turning Sargassum seaweed into a resource for our local chemical and gas industry
Yourself la Boutik: Coworking space for beginner and professional artisans
Socio-Esthetics: Company providing psychological help and technical care to suffering and vulnerable people affected by jeopardised physical, psychological or social integrity, but also providing beauty care services to a population in demand
Afterwards, writing workshops were held so participants could perfect their pitches to the jury. This jury of professionals really appreciated these young people and congratulated them for the quality of their performances.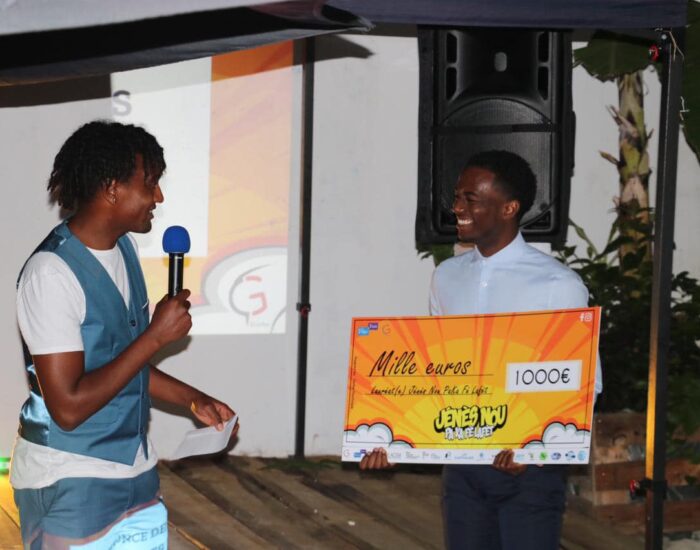 Gérald, our Business Developer, had the honour of representing the company at the closing ceremony on Friday 24 June.
In addition, the organisers of the competition entrusted him with the responsibility of rewarding the winner of this year's competition, Fabien from Jobbiz (a temporary employment agency that uses digital technology to facilitate the connection between candidate and employer).
As the winner, Fabien received a cheque for €1,000 as well as communication support.